RCD Installation
Feb 2016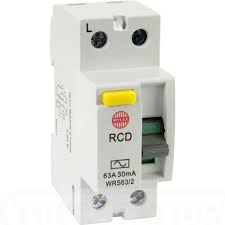 Welcome to our first instalment of our blog on Emergency Electrical job's in Brisbane.
We begin on a late night job we attended in Stafford, North Brisbane. A lady called us to come out quickly to help get power back on to the entire house. We quickly arrived on-site and went into complete fault find mode. We started by testing the main switchboard and with this testing you have a series of small but crucial methods we use as electricians to get a good understanding of what's going on with the basic structure of the wiring in the board and in the house.
We continued a visual inspection upstairs in the house and found everything to be ok.
We then started another check and tested the RCD's or 'safety switch' and after that procedure the safety switch protecting the light circuit was failing the test.
The wiring in the bottom of the RCD was installed incorrectly and in turn had burnt out the terminal.
Residual current devices are specifically designed to prevent electrocution, they filter out the high current transient before it is allowed to short to ground. The RCD has saved many lives in Australia. But incorrectly installed (as this one was) it would be completely ineffective to prevent loss of life. So it is absolutely imperative to ensure that your RCD safety switches have been installed correctly and tested by a licensed professional.
This was then replaced and tested.
With another full check on the installation, we could safely say that we could turn the power back on and sign off the job.
The customer was over the moon as she now had power back on and could watch her TV show.
Whenever in need of an Electrician in Brisbane to complete a fault find call us any time to deliver.